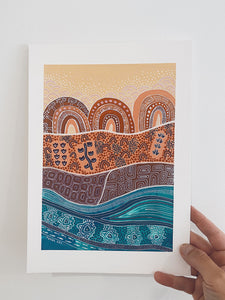 Designed to hang on the walls of your home to remind you that we belong the land, the land is our family. 
The trees and hills are our brothers and sisters, the animals are our friends, the ocean is our mother and the land is our heart. A gentle reminder that we must care for all of these things like we care for our family, because without them we would not survive. 

Hand painted on Worimi Country and printed onto the finest quality paper with love. Has a 2cm white border. 
NOTE: item colour may vary to photo 
Post or local pick up available (2428/2430)